How is the Bertelsmann Stiftung structured? Here you'll find information about our governance bodies, management team and the contacts available to you at the foundation.
Our organizational structure reflects our goals and principles. It ensures that we are able to fulfill, efficiently and transparently, the mandate laid out in our articles of incorporation.
The work we do is grouped into programs, each of which is led by a member of our Executive Board. Our projects, in turn, are grouped by topic and activity within each program.
Our interactive organizational chart shows the programs and support teams each member of the Executive Board is responsible for. It also lists the relevant contact for each program or team. You can open the organizational chart by clicking on the picture.
The Board of Trustees serves as an advisory and controlling body, comparable to a supervisory board. It is made up of individuals who have demonstrated ongoing interest in the work of the foundation, as well as leadership experience and insight into social progress.
In accordance with the foundation's articles of incorporation, the Board of Trustees provides support for the foundation's ongoing development, oversees its executive management and, together with the Executive Board, makes decisions on matters of key importance.
As the founder of the Bertelsmann Stiftung, Reinhard Mohn was a member of the Board of Trustees until his death on October 3, 2009.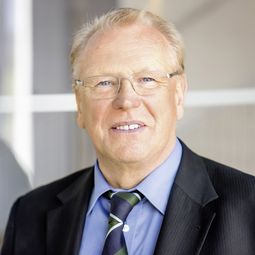 Werner J. Bauer is the former chairman of the Supervisory Board of Nestlé Deutschland AG. As executive vice president of Nestlé AG, he was head of the company's Technical, Production, Research and Development Division until August 2013. Born in 1950 in Prien, Germany, he studied chemical engineering in Erlangen-Nuremberg. His professional career began in the scientific field; among other positions he has held, he was professor of chemical engineering at the Technical University of Hamburg and director of the Fraunhofer Institute for Food Technology & Packaging in Munich. Since 1990, he has served Nestlé in different capacities. From 1998 to 2002 he worked for Nestlé South and East Africa as technical manager. In 2002 he became executive vice-president and was responsible for the company's technology, environmental and R&D activities worldwide. From 2007 to August 2013 he not only served as executive vice president, but also as head of the Innovation, Technology, Research and Development Division.
He has been a member of the Bertelsmann Stiftung Board of Trustees since 2003, and has served as its chairman since November 15, 2011.
He has also been a shareholder of Bertelsmann Verwaltungsgesellschaft mbH since April 2008 and a member of the Supervisory Board of Bertelsmann SE & Co. KGaA since August 2012.


Following the death of her husband, Reinhard Mohn, Liz Mohn represents the fifth generation of the Bertelsmann and Mohn founding families. She is vice-chair of the Bertelsmann Stiftung Board and heads the Neue Stimmen International Singing Competition, which she initiated. In addition, she has served as president of the Spain-based Fundación Bertelsmann since October 2005.

Her other activities at the Bertelsmann Stiftung focus on the Reinhard Mohn Prize, the International Cultural Forum series, work/life balance issues and initiatives concerning corporate leadership and culture.

At Bertelsmann SE & Co. KGaA, she is a member of the Supervisory Board, where she represents the founding Bertelsmann and Mohn families. In 1999, she joined the Bertelsmann Verwaltungsgesellschaft (BVG), which exercises the voting rights held by the Mohn family and the Bertelsmann Stiftung. Hence, the BVG controls 100 percent of the voting rights of the shareholders' meeting. She became chair of that organization's Executive Board in the summer of 2002.

She is also involved in the Bertelsmann Relief Fund and the Medical Information Service. She works on charitable and informational events for retirees, administrative assistants and spouses of managers and executives. As president of the German Stroke Foundation, an organization she originally established, she is also committed to promoting education and research in the area of stroke prevention, as well as to building national and international networks.

Finally, through the Liz Mohn Foundation for Culture and Music, founded in 2005, she is extending her engagement in the area of music and the arts by focusing on their importance for both individuals and society as a whole.
©Infineon Technologies

Dominik Asam was born in Munich in 1969 and holds diploma in mechanical and technical engineering from the Technical University of Munich and the École Centrale Paris. He graduated from INSEAD, Fontainebleau as Master of Business Administration in 1995. After beginning his career at Goldmann Sachs in London, New York and Frankfurt, he has gained professional experience in various executive positions in international listed companies. Among others he served as CEO of Siemens Financial Services Division and Head of Group Controlling at RWE AG. In 2011, Asam joined the executive board of Infineon Technologies as Chief Financial Officer. From April 2019, Asam will take office as CFO at Airbus, Europe's biggest aerospace company. Since 2017, he is also member of the supervisory board of Zalando SE.
Dominik Asam has been a member of the Bertelsmann Stiftung Board of Trustees since 2019.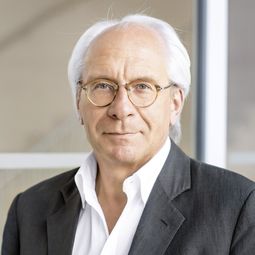 Born in Stuttgart in 1950, Wolf Bauer studied Journalism and History of Art in Munich and Berlin (graduating with M.A. honours). He initially began working from 1976 as a political features writer for the ZDF programme "Kennzeichen D".
In 1980, Wolf Bauer came to UFA Film- und Fernsehproduktion as an editor and producer and has served as executive producer and CEO for UFA Film & TV Produktion from 1991 to 2017.
Under his leadership, UFA has developed into a production group with seven subsidiaries which have continuously expanded their leading market position as a film and television producer in Germany in recent years. As head of UFA, Wolf Bauer founded Grundy UFA in 1991 with Reg Grundy, the Australian gameshow and daily drama pioneer. Together with Mike Murphy, the two turned it into Europe's largest producer of daily dramas. In 1998, he joined forces with Prof. Nico Hofmann and Ariane Krampe to set up teamWorx which established itself within six years to become one of the Top 5 German producers with the production of quality TV movies and fiction programmes with event character. In early 2008, he founded UFA Cinema with Thomas Peter Friedl, Prof. Nico Hofmann and Dr. Jürgen Schuster and served as CEO and producer until August, 31,2017.
From 2001 to 2007, Wolf Bauer was on the board of film20, an interest group for film production. He has also been a member since 2001 of the Advisory Board East for the Deutsche Bank and the chairman of the advisory board for the Erich Pommer Institut. Since 2008, Wolf Bauer has belonged to the board of the German Producers Alliance (Allianz deutscher Produzenten).
Wolf Bauer has been a member of the Bertelsmann Stiftung Board of Trustees since 2008.
Carsten Coesfeld is Managing Director Telecommunications at Arvato CSM Solutions.
From 2011 to 2015, he served as Advisor to the CEO of Bertelsmann SE in Gütersloh and New York and help to set up BFS health finance's hospital business at Arvato Financial Solutions in Dortmund. Prior, he gained practical experience at Goldman Sachs and The Boston Consulting Group. Before receiving a Master's degree in Accounting, Organisations and Institutions from the London School of Economics and Political Science, he studied Business at the WHU - Otto Beisheim School of Management in Vallendar and the École supérieure de commerce de Paris.
Carsten Coesfeld has been a member of the Bertelsmann Stiftung Board of Trustees since 2018.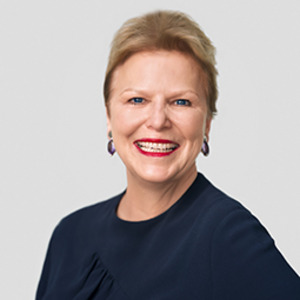 Ulrike Detmers is Professor of Human Ressource Management and Business Organization at the Bielefeld University of Applied Science. She is also a shareholder and member of the Executive Board of Mestemacher Group, a Gütersloh-based baking company.
In addition, Ulrike Detmers is very active in a number of associations and non-profit initiatives. She is Chairwoman of the grant-giving committee of the German Association of Female Academics (Deutscher Akademikerinnenbund e.V.) and Vice-Chairwoman of the Foundation of German Child Protection Agency (Deutsche Kinderschutzbund-Stiftung). She is also a member of the Initiative "Equal Opportunity at Work" of the State Ministry for Health, Social Affairs, Women and Family of North Rhine-Westfalia. After studying business management, she received her Ph.D. in 1992.
Ulrike Detmers has been a member of the Board of Trustees of Bertelsmann Stiftung since 2018.
Dr. Ralph Heck, 56, joined the Bertelsmann Stiftung Board of Trustees in 2012. As a director at McKinsey, he had been with the management consulting firm for some 30 years, an expert on helping companies develop and implement change processes. Born in Belgium, he received his PhD in engineering management from the University of Karlsruhe's department of economics. He also has many years of experience working in international settings.
Dr. Ing. Ralph Heck has been a member of the Bertelsmann Stiftung Board of Trustees since 2012.
©Astrid Eckert/TUM
Prof. Dr. Dr. h. c. mult. Wolfgang A. Herrmann, president of the Technical University of Munich (TUM), was born in 1948 in Kelheim, Bavaria. After studying chemistry, receiving his PhD and carrying out research in the United States, he was appointed to the post of professor in Frankfurt am Main.
He has been president of TUM since 1995. He received the Max Planck Prize and the German Research Association's Leibniz Prize in recognition of his research. During his tenure as president, TUM has broadened its reputation as one of the world's leading universities of science and technology.
In 2009, he was named "University Manager of the Year" by Financial Times Deutschland and the CHE Centre for Higher Education. In 2012, he was named "President of the Year" by the German Association of University Professors and Lecturers. He has also been awarded the highest honors bestowed by the Federal Republic of Germany and the Free State of Bavaria in recognition of his scientific leadership and civic engagement.
He has been a member of the Bertelsmann Stiftung's Board of Trustees since 2016.
Born in Stuttgart in 1965, Christoph Mohn studied business administration at the University of Münster. From 1992 to 1994 he worked at the Bertelsmann Music Group (BMG) in New York and Hong Kong.
From 1994 to 1996 he worked for the consulting group McKinsey & Company in its Electronics and Telecommunications division. In 1996 he joined the Bertelsmann subsidiary Telemedia as vice-president of Business Development. From 1997 to 2009 he served as CEO of Lycos Europe, which was formed from a joint venture with US-based Lycos Inc.
Christoph Mohn is Chairman of the Supervisory Board at Bertelsmann SE & Co. KGaA and at Bertelsmann Management SE. In addition, he is shareholder of the Bertelsmann Verwaltungsgesellschaft mbH and member of its Steering Committee. He is also Chairman of the Reinhard Mohn Stiftung.
Christoph Mohn has been a member of the Bertelsmann Stiftung Board of Trustees since 2009.
Carolina Müller-Möhl holds a degree in political science from the Free University of Berlin. She is an investor and president of the Müller-Möhl Group, a single family office that serves as the family's investment management service provider. From 2004 to 2012 she held numerous positions, including member of the Board of Directors of Nestlé S.A. Today she is a member of the Board of Directors of Orascom and of Neue Zürcher Zeitung. In 2012 she launched the Müller-Möhl Foundation, serving since then as its president. The foundation allows her to bring together in one organization her sociopolitical experience in the areas of education and gender diversity, her efforts to promote Switzerland as a location for doing business and her philanthropic activities in general. In this way, she has been able to contribute to over a dozen foundations, businesses and other institutions. She serves on a number of additional governance bodies, including the Advisory Board of the Swiss Economic Forum, the Board of Directors of the Schweizerische Management Gesellschaft and the Board of Trustees of the highly respected Swiss think tank Avenir Suisse. She is co-president of Forum Bildung and president of the jury of the Swiss Economic Award, the most prestigious prize for young entrepreneurs in Switzerland. In addition, she sits on the Advisory Board of the Pestalozzi Stiftung and of Generation CEO and serves as an advisor to the Department of Economics at the University of Zurich. In recognition of her social commitment and past successes, she was recognized as a Young Global Leader at the 2007 World Economic Forum (WEF).
Carolina Müller-Möhl has been a member of the Bertelsmann Stiftung Board of Trustees since 2013.
©European Union
From 1999 to 2014 Viviane Reding was Member of the European Commission. From 1999, she was responsible for culture, education and media, from 2004 for technology, telecommunication and media, from 2009 Vice-President of the European Commission for Justice, fundamental rights and citizenship. Between 1979 and 1989 the long-standing journalist represented her electorate in the Luxemburgish Chamber of Deputies, then from 1989 to 1999 and from 2014 to 2018 in the European Parliament (key issues: employment, petitions, fundamental freedoms and home affairs).
Since the 2018 national elections Viviane Reding is back in the Luxemburgish Chamber of Deputies.
Dr. Viviane Reding has been a member of the Bertelsmann Stiftung Board of Trustees since 2015.
Philipp Rösler is CEO of Cihang Charity Foundation.
Prior to that, he was a member of the Executive Board of the World Economic Forum. From 2009 to 2013, he was a member of the Cabinet of Germany. First, he acted as Minister for Health, then as Vice Chancellor and Minister for Economic Affairs and Technology. He was a member of the parliament of Lower Saxony from 2003 to 2009 and held the office of Vice Minister President and Minister for Economic Affairs, Labor and Transport in 2009. Before his political career, he practiced medicine as a captain in the German military. He studied medicine and received his doctorate in 2002.
Philipp Rösler has been a member of the Board of Trustees of Bertelsmann Stiftung since 2018.
From 2006 to 2012 he was a member of the ECB's Executive Board in addition to serving as chief economist. Prior to that, the recognized financial expert held the position of state secretary at the German Ministry of Finance (1995 to 1998). At that time he was also the German chancellor's personal representative during preparations for the G7/G8 economic summits. He then spent eight years as vice-president of the Deutsche Bundesbank, Germany's central bank. Prof. Dr. Stark holds a PhD as well as a graduate degree in economics.
Prof. Dr. Jürgen Stark has been a member of the Bertelsmann Stiftung Board of Trustees since 2012.