Democracy in Europe is undergoing a stress test. We will therefore be developing ideas and initiatives for promoting a constructive European discourse in the coming year. We will also expand our international dialogue forums such as the Trilogue Salzburg. Another focus will be solutions for shaping the digital future. In addition, we will soon have a greater presence in Berlin. Those are the developments announced by the Executive Board in its outlook for 2019.
During the last year, our foundation carried out some 70 projects in the areas of education, democracy, Europe, health, values and the economy. We spent €86 million on our nonprofit activities. We currently employ 384 people. In the 41 years since our foundation was established, it has made more than €1.5 billion available for its nonprofit work.

The issue of social cohesion was particularly important for our project activities in 2018. In June, we awarded the Reinhard Mohn Prize, dedicated to the topic "Living Diversity – Shaping Society," to former German President Joachim Gauck. We honored Gauck as an "exceptional individual who has explicitly positioned himself in favor of social diversity, taking a clear stand."
New offices and conference space in Berlin
In order to intensify the dialogue and cooperation with our partners, we will strengthen our presence in Berlin this year by opening offices at Werderscher Markt in late autumn. The building offers event and conference space, along with 25 temporary workstations that employees from the foundation's headquarters in Gütersloh can use when they are in the capital. Weisse Liste gGmbH, a subsidiary of our foundation already present in Berlin, will also relocate to the new facility. Weisse Liste (White List) operates the online portal www.weisse-liste.de, which offers patients guidance on health-care services in Germany.

In September, we will organize the international conference "Trying Times – Rethinking Social Cohesion" in Berlin. Political, economic, academic, cultural and social leaders will convene at the event to discuss social cohesion's prospects in a world undergoing major transformation due to globalization, digitalization and demographic change.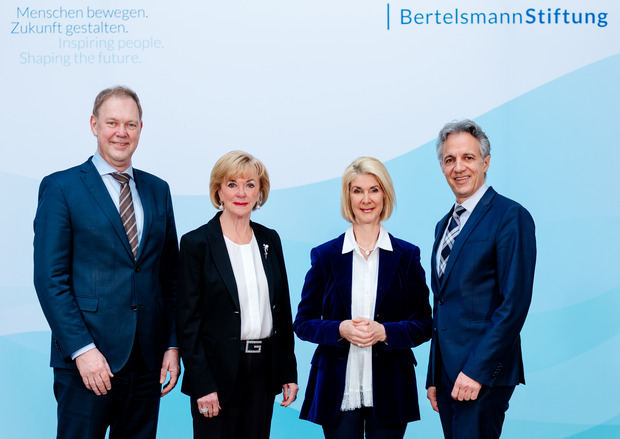 More engagement for Europe
In 2018, regular surveys such as the Social Governance Indicators (SGI), Populism Barometer and Bertelsmann Transformation Index revealed an unmistakable new trend: The quality of democracy is declining, autocrats are on the rise, and uncertainty and social polarization are growing on all continents.
"Democracy in Europe is currently undergoing a stress test," says our chairman and CEO Aart De Geus. "The foundation will therefore intensify its efforts in 2019 to engage people in a constructive dialogue on Europe." Its Europe program is developing new studies, dialogue venues and surveys – using the eupinions survey tool, among others – to shed light on strategies and perspectives for the European Union and to test new methods for promoting participation. De Geus emphasizes that the foundation is committed to improving the EU's ability to take action and its public acceptance, and to developing opportunities for participating that go beyond voting.
With our evidence-based studies and dialogue formats, our foundation wants to provide people with access to comprehensive, factual information on the many ways they benefit from the European Single Market. According to our previously unpublished calculations, €1,000 of the per capita income in the East Westphalia/Lippe region is, on average, attributable to the common European Economic Area. Aart De Geus sums up:
Dialogue forums for today's most pressing issues
The conference on social cohesion, held this year in Berlin for the first time, expands a series of international dialogue forums that our foundation is using to build bridges of understanding. Modeled on the Trilogue Salzburg – a gathering that brings together 30 international experts from the political, business and cultural arenas – a conference on March 8 will examine the topic "Europe and Asia in an Uncertain World." The conference will take place in Hong Kong with a follow-up event planned for Singapore in the autumn.

Together with the Office of the Federal President, we will continue to organize the Bellevue Forum. As part of this discussion series, German President Frank-Walter Steinmeier speaks with guests about the future of democracy. The German-Spanish Forum will also be continued. Launched in 2002, the annual event addresses topics important to Europe's future. "Our goal is to shape relations between peoples and cultures in a way that is based on trust. We are therefore committed to helping people meet and get to know each other. The Bertelsmann Stiftung achieves this by organizing high-level international events. We want to develop solutions that offer practical responses to today's political, economic and social challenges," says Liz Mohn, vice-chairwoman of our Executive Board.
Background
About us
Our foundation is committed to enabling social participation for everyone – politically, economically and culturally. The issues we address are education, democracy, Europe, health, values and the economy. In doing so, we focus on people, since only they can change the world and make it better. We share knowledge, promote expertise and develop solutions. A nonprofit foundation, the Bertelsmann Stiftung was established in 1977 by Reinhard Mohn.
Faster digitalization in health care and rural areas
Germany sometimes progresses at a snail's pace as it moves towards the digital future. According to the study #SmartHealthSystems, it ranks 16th out of 17 countries when it comes to digitalizing health-care systems. "In Germany, people with chronic conditions have to take their test results with them when they go from one doctor to the next. In other countries, electronic medical records are already being used to communicate this information," says Brigitte Mohn, member of our Executive Board. "That is why in the coming year the Bertelsmann Stiftung will increase its efforts to get policy makers, business leaders and all health-care players to commit to making digital advances accessible to all patients."
Digitalization can offer new perspectives to structurally weak and aging regions. Brigitte Mohn:
High-speed Internet, even in rural areas, is a key prerequisite for ensuring good working and living conditions. These days, it is a basic public service like running water or electricity. Policy makers have a responsibility to expand opportunities to participate, for example by ensuring older individuals acquire digital skills. We will be developing additional recommendations in this area, together with the Smart Country project and the Wegweiser Kommune (Community Roadmap) data portal.
Ethics of algorithms requires public debate
One relatively new focus of our work is developing an ethics of algorithms, a project that will be expanded in the coming year.
Intelligent machines are now a part of everyday life: They help doctors diagnose cancer and they dispatch law enforcement officers to track down criminals. They select suitable job candidates for human resources departments and suggest to judges which sentences should be imposed. "Algorithms and artificial intelligence are not science fiction, but reality. More and more, they are determining how we live. That is why we have to re-evaluate and adjust the relationship between human beings and machines," says Jörg Dräger, member of our Executive Board.
Our foundation examines how algorithmic systems impact opportunities to participate and which consequences they have for society. One of the goals is to increase awareness among the public of the ramifications of this technological revolution. Surveys conducted by us have shown that few people know what algorithms are and what they do. "A broad public debate is needed on the goals, use and limits of algorithms, and on more stringent transparency requirements," Dräger says. "We are calling for an 'anti-mask law' for algorithms. Everyone must be in a position to ascertain whether they are interacting with a person or a machine. Everyone must be able to understand which objectives algorithms are programmed to achieve and which data they are being supplied with."