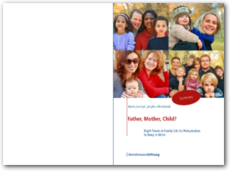 Bertelsmann Stiftung (ed.)
Karin Jurczyk, Josefine Klinkhardt
Father, Mother, Child?
Eigth Trends in Family Life for Policymakers to Keep in Mind
Format Type

PDF

Date of publication

01/01/2014

Edition

1. edition

Volume/Format

39 pages, PDF
Description
Families today are far more diverse than they were ten or twenty years ago – these developments have to be kept in mind by policymakers.
In eight trends, this book examines how family life in Germany has changed and outlines the consequences for the growing-up of children. The analysis highlights that family policy has not kept up with various developments and should be reassessed taking on a child's perspective. A free summary in English is now available.