Advances in technology – from the Internet of things to artificial intelligence, automation and big data – promise to reshape the labor market and economy in dramatic ways, said Denis McDonough, former chief of staff to U.S. President Barack Obama, at the ninth annual Bertelsmann Foundation-Financial Times conference in Washington, DC.
As in previous years, the annual conference took place on the sidelines of the IMF and World Bank Spring Meetings in Washington, DC. Bertelsmann Foundation Chairman and CEO Aart De Geus and Liz Mohn, Vice-Chairwoman of the Bertelsmann Stiftung's Executive Board, were in attendance on April 19, as well as distinguished guests from the diplomatic community, U.S government, think tanks and academia.
"The technological transformation is one of the big challenges facing the country, in fact, the world," McDonough said in a conversation with Demetri Sevastopulo, Washington bureau chief of the Financial Times. "Computers now are so fast and so prevalent that automation and even artificial intelligence now is on this accelerated timeline. We are going to be confronted with pretty substantial displacement questions for American workers. Washington is a little bit paralyzed on this question on the very macro level."
Not only low skill jobs threatened by automation
The conference opened with a video clip highlighting this issue, with projections that more than 47 percent of U.S. jobs will be automated by 2037 – with not just construction workers losing their positions, but also lawyers, design engineers and pilots. Machine intelligence is beginning to write code.
Already, the richest 1 percent of the world's population owned 48 percent of the world's wealth in 2014. Policymakers face a true challenge "to ensure the growth generated by technology and innovation is a net positive and inclusive," said Aart De Geus, Chairman and CEO of the Bertelsmann Stiftung, in his welcome remarks to the conference.
De Geus noted the digital and political revolutions spanning the globe. "Today we focus on automation and technology. These are radically reshaping our society and the global economy," he said. "These technologies amplified by increasing global connectivity are impacting technology and jobs at a speed we've never seen before."
Automation eliminates not just low skill jobs. Look at Goldman Sachs, which used to employ 600 stock traders and now has only two individuals, working with computer algorithms, De Geus said.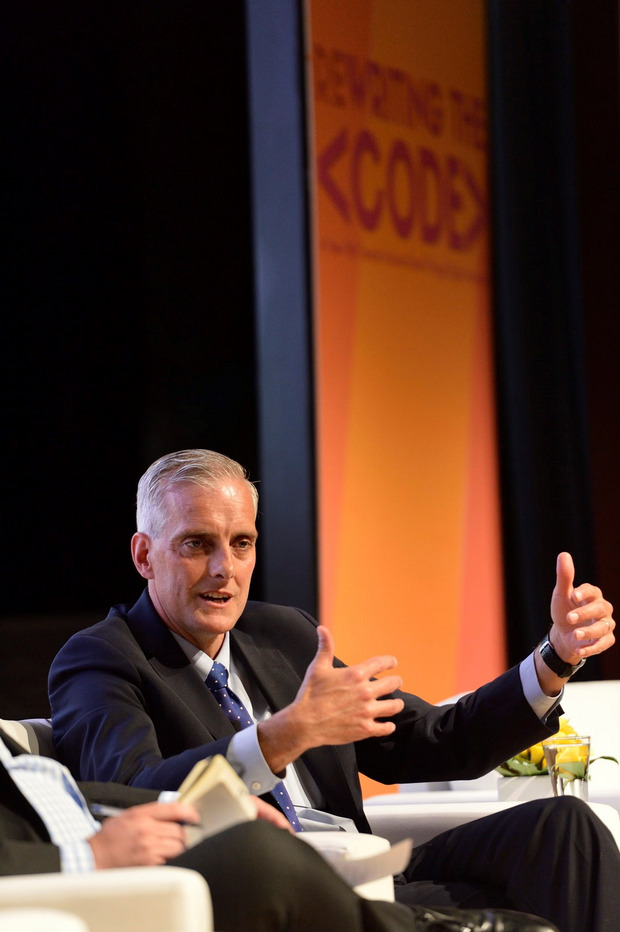 America cannot simply bet on its continued leadership
One key will be a shift to focus on workers' skills, rather than their credentials, McDonough said, expressing hope that Congress and the new U.S. administration will direct public policy to equip people with skills needed in today's workforce. The Markle Foundation, where McDonough now works, recently interviewed middle-skilled workers with less than two years of education after high school. Markle found that 80 percent of those workers recognize they will have to be lifelong workers and 64 percent of them understand that it is their responsibility to keep renewing their skills.
Some bright spots include business-education coordination – for example, like IBM working with a New York City high school to prepare students for high-tech jobs. But countries like Switzerland, Germany and Japan are better at connecting those dots. "We have to make sure there's a good nexus between what employers say they need and what community colleges are providing," he said.
America cannot simply bet on its continued leadership in technology. "We have to be turning out our people with a similar hunger and similar expectation," he said. "Competition in math, science and engineering is back at the table." Policymakers must also publicly debate the logistics and ethical issues around self-driving cars and provide a sound regulatory framework, standards and advice to state government.
Technologies are being built that once were science fiction
In a discussion following the conversation with McDonough, panelists suggested that the convergence of automation, artificial intelligence, data science and the Internet of things holds the potential for a technology-driven revolution in productivity, which can increase inclusion and decrease inequity with the right policies.
"By 2020, we want to have taxis flying through the sky. We're dealing with unbelievable advances," said Evan Burfield, co-founder of 1776, a Washington startup incubator. "Only in the last three or four years does it feel like we're entering this zone. Real startups are building the science fiction that I grew up with."
The technology industry is on the cusp of a burst of productivity gains similar to the 1990s, when the investments in information technology made in the 1970s paid off, he said, predicting a "period of very rapid change in how we live our lives."
Cecilia Muñoz, vice president of policy and technology at New America, agreed, noting that the enormous change could either reduce inequality in wealth or exacerbate it. "We have a shot at being ahead of that curve but it requires being deliberate, and assessing progress against the right metrics", said Muñoz, who was director of the White House Domestic Policy Council under President Barack Obama. "It is possible to drive the indicators of inequality in the right direction."
220 million people in India opened their first bank account
Moderator Edward Luce, the Financial Times' chief columnist, asked panelist Arvind Gupta, founder, Digital India Foundation, how technological change is playing out in India.
"India is a great example of where technology is making a very drastic change," Gupta said, noting that in a single year, 220 million people opened their first bank account. "That's more than the working population of many countries. They opened a bank account in the most frictionless manner in under a year."
Not only does that bring more poor people into the financial system, it also created jobs in the banking sector, by doubling the demand for customer service and digital payments.
"What are you going to do with the 45-year old truck driver?"
"If you want to look at prosperity for the future you also have to have strategies that look at both growth and inclusiveness," said European Investment Bank Vice President Ambroise Fayolle. He pointed to the EIB's investment to bring broadband infrastructure to low-density areas as an important example of this.
Indeed, despite the technology-fueled growth around the world, inequality is at its highest point since the 1920s, Luce noted. "This is a phenomenon that has been going on for decades," said Muñoz. "Government stopped investing in people, which resulted in disparities in the educational system and the kind of outcomes we get. The big question for us now, in this moment of transformative change ... do we have the will to use the tools that come to bear?"
Within five years, U.S. trucking fleets could be fully automated, creating huge labor force disruption given that truck driver is the number one job in half the states. "What are you going to do with the 45-year old truck driver?" Burfield said. "What are we trying to aim for in the long run when all this has stabilized?"
"We're going to create an unbelievably interesting world,"
Luce asked whether developing countries like India hold the potential to leapfrog some of these challenges and serve as a pilot or testing ground. Burfield and Gupta answered yes, with the caveat that additional challenges arise, such as transportation and pollution.
"Transportation policy is where you go. It arguably holds the answers to some of the most vexing challenges we face," Muñoz said, noting the mismatch in housing prices in San Francisco and difficulties for low-wage workers.
"I think we're going to create an unbelievably interesting world," Burfield said. "We've got a really messy 20 to 25 years to get to [tech] utopia."