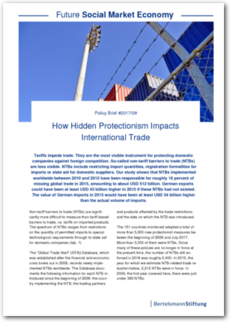 Bertelsmann Stiftung (ed.)
Dr. Cora Jungbluth, Dr. Thieß Petersen, Dr. Erdal Yalcin, Luisa Kinzius, Gabriel Felbermayr, PhD
Policy Brief #2017/09: How Hidden Protectionism Impacts International Trade
Policy Brief Series Future Social Market Economy
Format Type

PDF

Date of publication

08/12/2017

Edition

1. edition
Description
Tariffs impede trade. They are the most visible instrument for protecting domestic companies against foreign competition. So-called non-tariff barriers to trade (NTBs) are less visible. NTBs include restricting import quantities, registration formalities for imports or state aid for domestic suppliers.
NTBs implemented worldwide between 2010 and 2015 have been responsible for roughly 16 percent of missing global trade in 2015. German exports could have been at least USD 43 billion higher in 2015 if these NTBs had not existed. The value of German imports in 2015 would have been at least USD 34 billion higher than the actual volume of imports. These are the results of a recent study of the ifo Institute Munich on behalf of Bertelsmann Stiftung.
Based on the quantitative results of the study, this policy brief also draws policy conclusions in regard to the world trade system. The authors argue that NTBs should be addressed – analogous to tariff reduction rounds – under the multilateral umbrella of the WTO. The long-term goal should be uniform regulations and standards around the world in order to ensure fair framework conditions for international competition. Here, particular attention should be paid to special economic relationships between industrialized countries on the one hand and developing and emerging countries on the other.
Content contacts