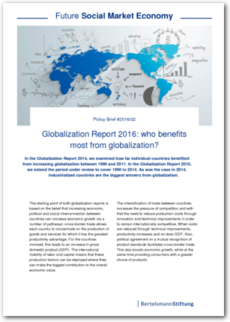 Bertelsmann Stiftung (ed.)
Dr. Thieß Petersen, Dr. Michael Böhmer (Prognos AG), Johann Weiß (Prognos AG)
Policy Brief #2016/02: <br/> Globalization Report 2016: who benefits most from globalization?
Policy Brief Series Future Social Market Economy
Format Type

PDF

Date of publication

01/09/2016

Edition

1. edition
Description
This Policy Brief summarizes the main results of the "Globalization Report 2016". The Policy Brief shows that industrialized countries are still the biggest winners from increased globalization.
Content contacts