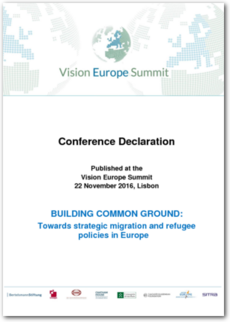 Vision Europe Summit (ed.)
Vision Europe Summit 2016 Conference Declaration
Building common ground: Towards strategic migration and refugee policies in Europe
Format Type

PDF

Date of publication

12/12/2016

Edition

1. edition

Volume/Format

8 pages, PDF
Description
Based on four strategic directions, the declaration calls for comprehensive, coherent and opportunity-driven approaches in Europe. It was the EU's unpreparedness and reliance on mainly national responses to this international challenge that aggravated the migration and refugee crisis. Given the drivers of global mobility, Europe must expect and plan for flows in the future. The EU urgently needs to develop a common, effective, pro-active and fair refugee policy.
The following four strategic directions are developed in the declaration:
1. Create political will to develop a forward-looking EU strategy on migration.
2. Develop coherent and fair mechanisms for better managing migration flows.
3. Promote work and education focused integration that strengthens social belonging.
4. Mobilise the whole of society to promote inclusivity.
The signatories of the conference declaration emphasize the importance to take stock of the current crisis in order to develop instruments that will allow it to better react to future challenges.