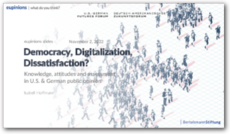 eupinions slides: Democracy, Digitalization, Dissatisfaction?
Knowledge, attitudes and assessment in U.S. & German public opinion
Format Type

PDF

Date of publication

02/11/2022

Edition

1. edition

Volume/Format

14 pages, PDF
Description
Rapid transformation processes shake up economies, put a strain on democracies and disrupt societies. Digitalization is a driver of transformation. Its effects on democracy have been debated over the past years.
Against this backdrop, we asked what people know about digitalization, how people feel about it and whether they believe digitalization is good for democracy.
Content contacts